COVID-19 Update for May 7th, 2020
To our Palmetto Smiles Family:
We hope this letter find you and your family well!  Our community has been through much over the last few weeks, and everyone here at Palmetto Smiles is looking forward to resuming our normal habits and routines.  While many things have changed, one thing has remained the same:  Our commitment to our patients' safety!
Infection control has always been a top priority for our practice as you may have seen during your visits to Palmetto Smiles.  Our infection control processes are in place so that when you receive care, it is both safe and comfortable.  We'd like to take a minute to tell you about some enhancements we'll be implementing when you return to our office.
Our office follows the infection control recommendations made by the American Dental Association (ADA) the U.S. Centers for Disease Control and Prevention (CDC) and the Occupational Safety and Health Administration (OSHA).  We follow the activities of these agencies daily so that you can rest assured we are up to date on any new rulings or guidance that may be issued.  We do this to make sure that our infection control procedures are current and adhere to each agencies' recommendations.
You can expect to see some changes when it is time for your next visit to Palmetto Smiles that are designed to protect both our patients and staff:
We will be communicating with you before your visit to ask some screening questions and will perform an additional prescreen and temperature check upon your arrival to the office

After checking in and prescreening, you should be prepared to wait in your car until your scheduled appointment time; we will give you a call and escort you back for your appointment

Appointments and patient flow will be managed to allow appropriate social distancing between patients.  If needed, we ask that only one parent or guardian accompany our pediatric patients into the office for their visit and please make other arrangements for unscheduled siblings at this time. Please wear a mask or other face covering if you have one available

You will also notice some increased use of barrier protection and enhanced Personal Protective Equipment being utilized by our team as you move through our office

We will do our best to allow greater time between patients to reduce waiting times for you, as well as to reduce the number of patients in the office at any one time
We look forward to seeing you again soon and are happy to answer any questions you may have about the steps we take to keep you and everyone here at Palmetto Smiles safe!  Please reach out at (803) 951-9100 or www.palmetto-smiles.com with questions or to make an appointment.
We thank you for your trust and loyalty and look forward to welcoming you back to our office!  We have missed every one of the Palmetto Smiles Family!
-The Doctors and Team
COVID-19 Update for April 3rd, 2020
To our Palmetto Smiles Family, Friends, and Patients,
We're here for you during this difficult time, and we know that it is important to stay connected now more than ever. We're excited to announce that we have created a virtual visit option to help improve communication while our office hours are limited!
If you have any questions about your dental health or orthodontic treatment, simply connect with us using one of the options described below.
For current pediatric and general dentistry patients, in the event of an emergency you can call our office number at 803-951-9100. Our call service is on duty 24 hours a day, 7 days a week and we will continue to see patients with emergent and urgent dental needs as needed. You don't have to stay at home suffering with a toothache! If you are unable or just uncomfortable coming to the office at this time, you can book in a time to perform a virtual visit here.
For current orthodontic patients, in the event of an emergency please text your information and photos to 803-594-4832. If you are in active treatment, and would like to complete a regularly scheduled orthodontic appointment with Dr. Hopkins, you can upload a few images of your teeth here. For many of our orthodontic patients, Dr. Hopkins is able to provide feedback which will allow for your treatment to progress and your treatment to stay on track.
Want to know what is considered a dental emergency? Scroll for the PDF below.
Once you've submitted a request for a Virtual Visit, Drs. Gomez, Hopkins, Nieders, Raines or one of the Palmetto Smiles team will contact you to assist.
Once again, we'd like to thank all of you for your patience during this time, and we can't wait to see your smiling faces in person again soon!
Take care and keep smiling,
Your Palmetto Smiles Team
Dental Emergencies – March 23rd, 2020
To our Patient Family,
We miss all of our patients dearly but hope everyone is staying safe and remaining at home at this time. As we mentioned earlier we will still be here to support our patients with dental emergencies. We will also be launching our virtual patient portal for our active orthodontic patients, and dental emergencies evaluation. We have attached a guide here from the American Dental Association (ADA) to help you determine what are and are not considered dental emergencies. If you have any questions at all, please reach us at 803-951-9100 via phone. You can also text us at 803-594-4832.
Thank you,
Your Palmetto Smiles Team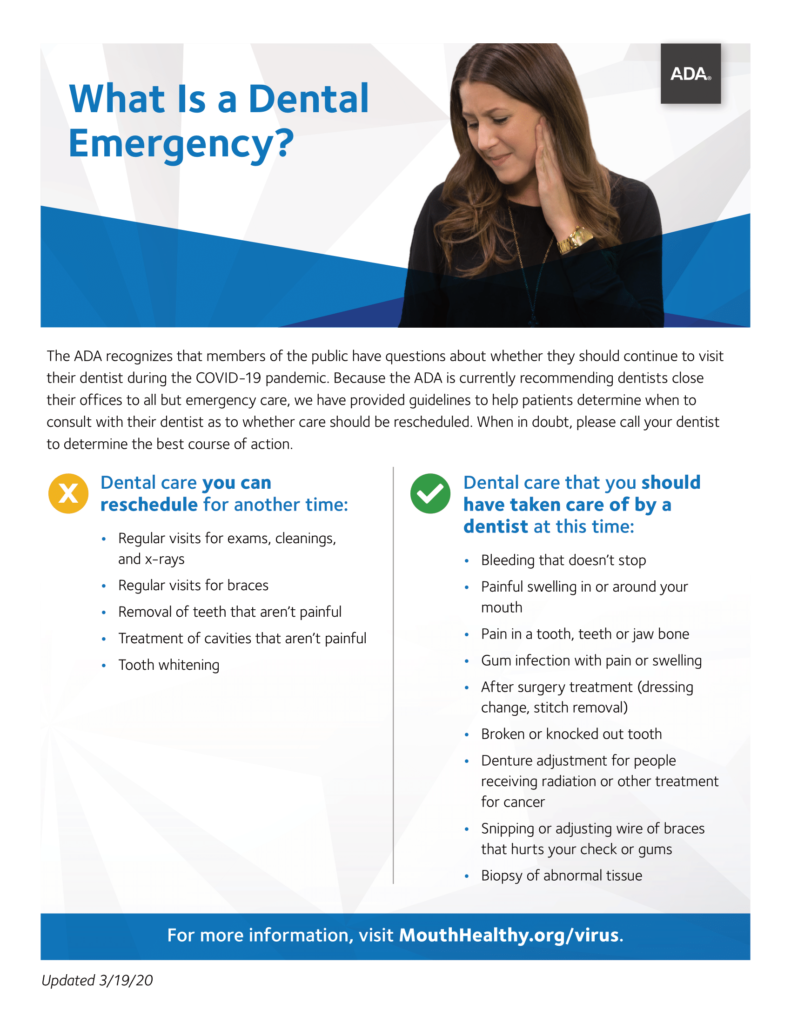 COVID-19 Updated For March 23rd, 2020
To our Patient Family,
Under the guidance of the CDC, American Dental Association (ADA) and our state board (SCDA), we are currently rescheduling patients with elective dental needs, including upcoming orthodontic appointments, in order to responsibly slow the spread of COVID-19. We are still here to support you during this time.
We will remain open to treat dental emergencies as well as scheduled dental work that has the potential to become urgent in order to prevent overburdening our emergency medical facilities at this critical time.
We have also been working around the clock putting systems into place which will allow you to progress with your orthodontic care. Certain appointment types will be eligible to transition over to our Virtual Visit platform. We will be reaching out to our orthodontic patients over the next few days with additional information.
Please feel free to reach out to us with any questions or concerns at 803-951-9100. Questions specific to orthodontic treatment, please text 803-594-4832 or email us at ortho@palmetto-smiles.com.
We appreciate your support and understanding as the situation evolves, and we look forward to seeing you soon!
Your Palmetto Smiles Team
COVID-19 Update for March 15, 2020
To our Patient Family,
Like many of you, we're taking things day-by-day regarding our response to Covid-19 at Palmetto Smiles.
At this time we are planning to remain open as usual to continue to serve the dental needs of our community.
Rest assured we are implementing additional protective measures to our usual hospital grade sterilization to ensure a sanitized and medically safe environment for you and your family.
We may be contacting you to adjust your scheduled appointment time in order to reduce the number of people in the building at any one time.
This may go without saying, but please do not come to our office if you have a fever, cough, flu-like symptoms or even if you are feeling under the weather or are just not comfortable being around other people at this time.
We understand if you'd like to reschedule.
We're all in this together!
Your Palmetto Smiles Team